Three Class of 2014 Bioengineers Develop Point-of-Care Blood Test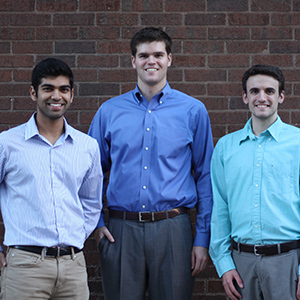 Build a better mousetrap. That's the axiom for entrepreneurial success, and one which three young bioengineers have leveraged to improve the typical blood test. If their prototype proves successful, 2014 graduates Peter Bacas, Max Lamb and Nishant Neel intend to replace a typical needle-based test with a pain-free experience that provides almost instantaneous results.
"Data from blood tests provide important information needed to diagnose and treat patients. Currently, patients have to wait anywhere from a few days to two weeks to receive their results," explains Lamb. "That's two weeks of delayed treatment and potential anxiety. Imagine visiting your doctor, and instead of going to the lab to have your blood drawn, your doctor tests you in the office, and you walk out of your appointment with a treatment plan. Those are the problems we want our technology to solve."
With that goal in mind, the three built on a technology platform that melded nanotechnology, molecular diagnostics and paper microfluidics to develop their concept and form Drop Diagnostics Corporation.
"We developed the basics behind our technology during our senior year. Through discussions with various researchers around Penn, such as Dr. David Issadore in the Bioengineering Department, and Nicholas Kybert in the Physics Department, we were able to validate the initial concept," says Bacas.
Point-of-care diagnostics are not new, as evidenced by glucose monitors, which require only a small drop of blood to immediately determine the amount of glucose present. But currently, there are no point-of-care blood tests that can detect signature proteins, the keys to diagnosing illnesses, assessing the health of certain organs, or screening for some genetic conditions. That's the goal of the company's flagship product, a single-drop blood test.
Each of the entrepreneurs has a specific role in the young company. As the one who developed the idea and built a support network for a fledgling startup business, Bacas is a natural as the CEO. Neel is CTO, leading scientific development and applying lessons-learned from a summer stint as an engineer at another startup. Lamb, who earned a degree from Wharton in operations and information management along with his bioengineering degree, is COO.
"Overall, we have similar strengths, but we have different interests and experiences, which make us a unique and effective team," says Neel.
Before the trio graduated, they applied to participate in DreamIt Health Philadelphia 2014, a technology accelerator sponsored by DreamIt Ventures. As one of only nine health-tech startups selected by the accelerator, Drop Diagnostics received $50,000 in seed capital and is also gaining coaching from successful tech entrepreneurs; free workspace at the Innovation Center on the campus of the University City Science Center; and access to people and resources across leading healthcare organizations, which are typically out of reach to startups.
They also participated in a four-month boot camp designed to help the chosen startups rapidly accelerate the development of their technology and identify high-impact business models.
"This kind of startup is not a quick flip like many of the startups you hear about in the news," reveals Neel. "Relative to IT ventures, the journey for medical device startups from formation to exit or profitably is long, and our accelerator advisors realize that. During boot camp they evaluated us and advised us differently than the other companies in the accelerator, where sales and customer interest is paramount."
Drop Diagnostics' progress throughout the accelerator will be measured by how clear the three bioengineers can make their growth and revenue plan—they are currently working to raise seeds funding—how thoroughly they can develop a proof of concept device, and their ability to sign on researchers to use and help iterate on the device. "If we can complete all this, our chance of receiving additional funding grows significantly," adds Bacas.