Team McGill: Penn Engineering's Triple Play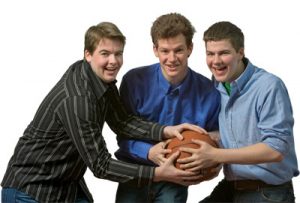 The McGill brothers' defining moment at Penn Engineering came when all three of them filed into Professor Katherine Kuchenbecker's Introduction to Mechanics Lab on the first day of class. Having reviewed her fall '09 MEAM 147 student roster, Dr. Kuchenbecker was expecting three students with the last name of McGill, but was it possible that they were actually all related? Call it a curious curricular coincidence or happy accident, brothers Steve, a senior; Will, a junior; and Nick, a freshman, had all enrolled in the same lab.
On that first day, Dr. Kuchenbecker and the rest of her students could not have been faulted for secretly wondering how this fraternal relationship would play out in a close academic setting: Would fights break out? Would alliances be formed? Would they still be speaking at the end of the semester?
MEAM 147 is designed to improve students' skills in conducting experiments and emphasizes connections between theoretical principles and practical engineering applications. Each week, students form into groups of three to investigate an assigned problem, and several times the McGill brothers found that they were a team. Their collective goal in these situations was "to have the most fun doing the lab, while maintaining a sense of decorum and academic prowess and learning as much as possible. We also know each other's strengths. We've been doing projects together our whole lives."
Their intellectual focus and strong work ethic was recognized and nurtured throughout childhood. Mr. and Mrs. McGill observed early on that Legos® and K'nex were a highly-prized commodity in the household. The budding engineers were encouraged to further explore the world of technology that the three found so fascinating. Their grandfather built them a workshop in the garage and the tinkering marathons began.
One by one, they came to Penn Engineering. As the first to be accepted, Steve's "Pennthusiasm" was, evidently, highly contagious. Will and Nick remember well his communiqués from campus during his freshman year: All kinds of exciting things were happening! Throughout his almost four years here, Steve has been dynamically engaged with all things Penn.
Some psychologists theorize that birth order determines personality. While Steve may fit the profile of the eldest child as the "doer" and the leader, Will does not fall into the stereotype of the "less connected" middle child. His brothers describe him as epitomizing familial loyalty and dedication, and his love of Penn is one and the same as his love of the community he has found here.
The birth order/personality theory describes the youngest child as creative and one who loves the spotlight. Nick, according to his brothers, is an "awesome writer," plays trumpet in the Penn Band, and advises his brothers on the latest music and Internet news sites. At Malvern Prep, Nick was recognized for having the highest cumulative GPA throughout his four years of high school. When he applied early decision, he was not following his brothers as much as he was following his instinct. Penn Engineering would be the best school for him.
One of the FIRST Foundation's tenets the McGills learned at Malvern Prep is called "Practicing Gracious Professionalism." It is defined as "a way of doing things that encourages high-quality work, emphasizes the value of others, and respects individuals and the community." It is one thing to recite and quite another to practice. To the benefit of Penn Engineering, Steve, Will and Nick McGill appear to have adopted "Gracious Professionalism" as a guiding principle.
Excerpted from Penn Engineering Magazine's "Team McGill: Penn Engineering's Triple Play" by Patricia Hutchings.