Red & Blue Racing takes 15th out of 120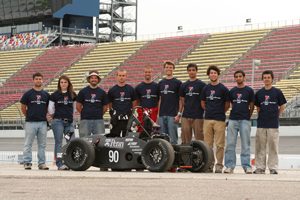 Penn's Red & Blue Racing team recently turned in a great performance at the annual Formula SAE competition, held at the Michigan International Speedway. From a field of 120 collegiate teams from around the world, Penn placed 15th overall, the team's best showing to date. In just six years, Red & Blue Racing has progressed from 100th place (and happy to finish at all) to be ranked now among the elite competitors.
Although the four-day FSAE series draws much of its excitement from the racing, it is very much an engineering contest. Penn took high marks not only for performance on the track, but also for the quality of its design and the professionalism of its presentations.
To find out more about the competition, see the Formula SAE website and the Red & Blue Racing website.