Peter Reilly (ChE PhD'64) Passes Away at 78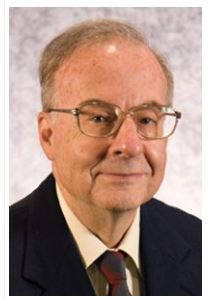 Peter J. Reilly passed away November 2, 2017, after a battle with duodenal cancer. He was a New Jersey native and received an A.B. in Chemistry in 1960 from Princeton University, and a Ph.D. in Chemical Engineering in 1964 from the University of Pennsylvania. He spent four years with DuPont's Organic Chemicals Department in Deepwater, New Jersey; six years at the University of Nebraska–Lincoln; and was a Distinguished Professor of Chemical and Biological Engineering at Iowa State University.
He worked for many years with exchange students from Iowa State University and other institutions, extensively traveling both nationally and internationally. He launched two international exchange programs at Iowa State; one of which was unique in the world that exchanged students, faculty, and staff from across Iowa State with those at the University of Glasgow, Scotland. He also initiated a program with the Université de Lausanne in Switzerland, which continues to this day. He enjoyed leading summer programs for chemical engineering students to University College, London and the Universidad de Oviedo, Spain. He also served on a number of doctoral committees in countries such as India and Sweden; and supervised 22 Ph.D students from 11 countries, including Korea, Nigeria, the former Yugoslavia, Turkey, Taiwan, Portugal, Switzerland, India, and China, as well as the United States. He took particular pride in the fact that 11 of his students chose careers in university research and teaching.
Beyond scientific pursuits, he enjoyed serving on, and then chairing, the ISU Library Advisory Committee. In his retirement, he served on the board of the Ames International Orchestra Festival Association, serving as its president for two years.
Dr. Reilly retired as a full-time faculty member from Iowa State University in 2014.  He is survived by his wife Rae and daughters Diane and Karen, and his three grandchildren.
It should be noted that at the time of his death,  Dr. Reilly was looking forward to being featured in the 'Career Paths' section of the CBE website, but passed before completing his personal story. His wife, Rae, expressed that he "valued his time at Penn and the education he received."