Penn Engineers and physicians work together to improve patient health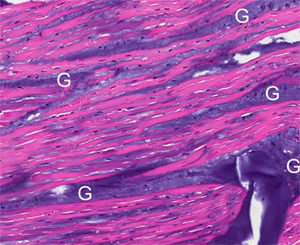 Physicians know that once a patient has a heart attack, he or she is at increased risk for developing heart failure. That's because of a complex series of physiological events that occur after someone suffers a myocardial infarction (or heart attack). Specifically, there is increased stress in the heart tissue, which leads to heart enlargement and progressive loss of function and, in many cases, death.
In recent years, scientists have pursued approaches to inject hearts with bulking agents to stabilize the myocardium, but much remained to be discovered about the optimal properties of the administered substance.
Jason A. Burdick, associate professor in Bioengineering, has been working collaboratively with brothers Robert C. Gorman and Joseph H. Gorman III, both professors of Surgery at Penn's Perelman School of Medicine, to determine the ideal bulking agents that can adequately and effectively thicken the myocardium. Their results have led to breakthroughs in biomaterials, specifically in polymers, a field of study in which Burdick specializes.
"The major advantage to this approach is its conceptual simplicity," says Burdick. "Biologically complex and poorly understood approaches, like cell therapy, are not always needed to alter patient outcomes. Simplicity may also allow translation of these new therapies to the clinic much faster."
Burdick's research interests include developing degradable polymeric biomaterials that can be used for tissue engineering, drug delivery and fundamental polymer studies. Specific targets of his research include scaffolding for cell and growth factor delivery in bone and cartilage regeneration; controlling stem cell differentiation through material interactions; and investigating the influence of polymer structure and chemistry on resulting network macroscopic and microscopic properties.
Graduate students in Burdick's Polymeric Biomaterials Laboratory work on designing polymers for these biomedical applications, ranging from new synthetic techniques, material characterization, and cellular interactions. Burdick's lab has developed a productive and synergistic collaborative relationship with the Gorman Cardiovascular Research Group (GCRG), to develop injectable materials that have tunable properties and can be used for treating hearts that have been damaged by a heart attack.
GCRG is made up of cardiovascular surgeons, cardiologists, radiologists, engineers, computer scientists, physiologists and molecular biologists. GCRG's mission is to develop innovative and, when possible, less-invasive strategies for the treatment of structural cardiovascular disease by the disciplined application of basic science and engineering principles.
"The relationship that has evolved between the Polymeric Biomaterials Laboratory in the School of Engineering and GCRG in the Perelman School of Medicine is really an excellent example of the world-class translational research that is going on here at Penn," says Robert Gorman. "Faculty and students work together to develop cutting-edge therapies that will help our patients in the near-term. Penn is an exciting place to be if you are interested in bioengineering, medicine and making a difference in patients' lives."