Paul McKenzie (ChE'87) Elected to the National Academy of Engineering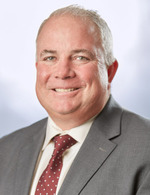 Dr. Paul McKenzie has been elected to the National Academy of Engineering (NAE). He has been a strong supporter of the CBE department and is a regular attendee at the annual John A. Quinn Distinguished Lecture.
Dr. McKenzie is an accomplished global leader with diverse biotechnology experience and is the COO of CSL Behring, a biotherapeutics company located in King of Prussia, Pennsylvania.
Dr. McKenzie has served in a range of progressive operational leadership roles in the biopharma and biotech industries since 1992.  He began his career as the Executive Vice President of Pharmaceutical Operations and Technology at Biogen, where he was accountable for asset management, technical development, global manufacturing, supply chain operations, CMC regulatory, quality, and engineering.  Earlier in his career, he also held subsequent leadership roles in research and development, science and technology and operations with Johnson & Johnson, Bristol-Myers Squibb and Merck.
Dr. McKenzie earned a Bachelor of Science degree in Chemical Engineering from the University of Pennsylvania and a Ph.D. in Chemical Engineering from Carnegie Mellon University.  He is also an accomplished author and thought leader on operational excellence in the biotech industry.