Mitchell Litt, Professor Emeritus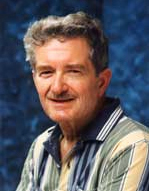 Dr. Mitchell Litt, Professor Emeritus in the Department of Bioengineering, passed away on March 2, 2014 at age 81.
Dr. Litt was a founding member of the Department of Bioengineering, which was officially created at Penn in 1973. He was first appointed to Penn's faculty in 1961 as an assistant professor of chemical engineering and chaired the Department of Bioengineering from 1981-1990.
Dr. David F. Meaney, Solomon R. Pollack Professor and Chair of Bioengineering, reflected on Dr. Litt's passing in a recent faculty meeting. He said, "Mitch was ahead of his time. The earliest example I can recall is when Mitch used a sabbatical to attend medical school for a year and transition into biomedical research.  This immersion training in medicine for an engineer was unheard of at that time.  Mitch saw what very few people in the country could see at the time—the most important problems an engineer could tackle were about knowing ourselves: how we are put together, how we work, and what goes wrong when we have disease or injury.  Mitch's transition into bioengineering, and becoming a founding member of the department at Penn, were natural steps for him in leading a profound change for engineering as a discipline, both at Penn and nationally."
Praised for his teaching, Dr. Litt received a Lindback Award for Distinguished Teaching in 1963. Dr. Litt was well-loved and there was always a buzz of activity in class and at meetings and talks. He was interested in the ideas of everyone—undergraduates, graduate students, faculty, and staff alike. "His work in education brought a national focus to our program, and has been duplicated countless times across the country in many different engineering curricula," said Dr. Meaney. "In this aspect, his legacy left an imprint on thousands of young minds across the country, and continues to this day."
Dr. Litt published dozens of papers on his research into biotransport, cellular bioengineering and biorheology. He helped develop biomedical instruments for measuring the viscosity and elasticity of tracheal mucus and other secretions, which improved the understanding and diagnosis of respiratory and other diseases. Born in Brooklyn, NY, Dr. Litt was a graduate of Columbia University. He received a B.S. and M.S. in chemical engineering in 1954 and 1956, respectively, and an Eng.Sc.D. in 1961.
Dr. Litt is survived by his wife, Zelda; children, Ellen Simons and Steven Litt; grandchildren, Louis, Abby, Jocelyn, Jennifer and Melissa; and sister, Dr. Naomi Quenk. Contributions may be made to the Penn Engineering Undergraduate Scholarship Fund.