MEAM Students and Faculty in Philly Materials Science and Engineering Day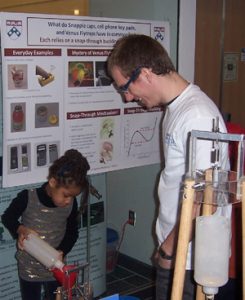 Students and faculty in the department of Mechanical Engineering and Applied Mechanics (MEAM) were active participants in this year's Philly Materials Science and Engineering Day, an event developed to introduce the general public to materials that are stronger, smaller, cleaner, and smarter than ever. Each exhibit in the February 5th event was designed to tie into the PBS NOVA series "Making Stuff."
Activities related to Materials Science included exhibits like "Snap-Through Materials" and "Sliding on the Thinnest Rugs," where participants could answer the question, "How does friction behave on sheets only one atom thick?" The demonstrations and hands-on experiments filled the first and second floors of the Bossone Research Enterprise Center in Center City.
Faculty participants included John Bassani, Richard H. and S. L. Gabel Professor and MEAM Department Chair, and Robert Carpick, Professor of MEAM. Students included Drew Cheney and Xin Wang, both MEAM Ph.D. candidates, and Pablo Castillo, a sophomore in MEAM.
In NOVA's fascinating new four-hour series, "Making Stuff," popular New York Times technology reporter David Pogue takes viewers on a thrilling tour of the material world we live in, and the one that may lie ahead—offering viewers a behind-the-scenes look at scientific innovations that are ushering in a new generation of materials.