Kwadwo E. Tettey (ChE PhD'13) – A Journey in the Semiconductor Industry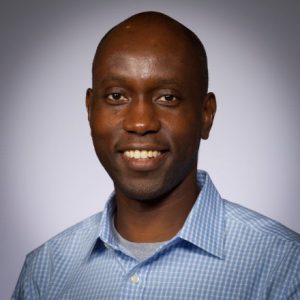 Kwadwo E. Tettey is an Applications Engineer for the Chemical Mechanical Planarization Technologies (CMPT) business group of Dow Electronic Materials in Newark, Delaware. In this role, Kwadwo collaborates closely with counterparts in Dow's marketing and technology organizations to develop Chemical Mechanical Planarization pad and slurry products used for semiconductor fabrication of logic and memory devices. In addition, he interfaces closely with domestic and international semiconductor customers for new product introductions and applications support. Prior to joining Dow, Kwadwo worked from 2013 to 2016 as a CMP Module Engineer in the Portland Technology Development (PTD) division of Intel Corporation in Hillsboro, Oregon. During his time there, he worked on developing novel CMP procedures for Intel's 10nm technology node, as well as driving process improvements on equipment to meet device yield and cost targets.
Kwadwo's journey to the semiconductor field began while pursuing his undergraduate degree in Chemical and Biomolecular Engineering at Johns Hopkins University. His concentration in Interfaces and Nanotechnology exposed him to the fabrication and everyday use of nanoscale devices, such as semiconductor chips. This exposure, combined with his undergraduate research experience in Professor Kate Stebe's lab (then at JHU), sparked an interest in pursuing a long-term career in Research and Development in the semiconductor field. In 2008, Kwadwo chose to pursue his PhD in Chemical and Biomolecular Engineering at the University of Pennsylvania. During his time at Penn, Kwadwo worked in Professor Daeyeon Lee's lab where he engaged in challenging research projects, which he credits for significantly enhancing his research training.
While at Penn, Kwadwo served as co-chair of the International Students Advisory Board (ISAB), and as a Graduate Associate at Du Bois College House. It was through these leadership experiences that Kwadwo developed his skills to effectively collaborate with people from diverse backgrounds, which has been helpful in his current role in working with international teams. Kwadwo continues to be engaged with the Penn community by volunteering with the Penn Alumni Interview Program. In addition, Kwadwo is an active member of Engineers Without Borders (EWB) Newark, Delaware professional chapter, where he works on projects that improve the lives of people around the world.