Karen Winey: At the Helm of Materials Science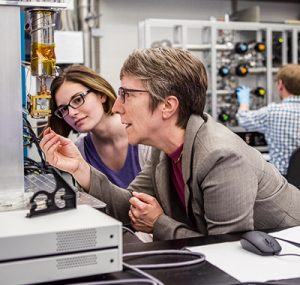 To excel in materials science research, you need curiosity about the microscopic building blocks of matter, and the creativity to design radical new properties on which to build the next technologies. Fortuitously, Karen Winey, TowerBrook Foundation Faculty Fellow in Penn Engineering's Department of Materials Science and Engineering (MSE), has a long-proven career in doing both.
"I have been deeply involved in the department since arriving in 1992, and am extremely proud of our extraordinary breakthroughs in science and engineering across a broad spectrum of materials, from metal to inorganics to polymers. I am equally proud of our history of service to the University and the scientific community, our highly regarded educational programs and our extremely accomplished alumni," says Winey. "Now, with my new responsibility as department chair, I'm excited about developing additional research and educational opportunities in order to expand and share knowledge about materials related to energy storage and conversion, sustainability and infrastructure, health sciences and electronic and optical devices."
"Karen's unique blend of professional achievements and personal qualities makes her a strong choice for heading the department," states Vijay Kumar, Nemirovsky Family Dean of Penn Engineering. "I am confident her experience, scholarship, insight and vision will drive this program into the future."
Enhancing Collaboration
Winey and her fellow materials scientists are forward thinkers. They look for connections between the underlying structures of materials, the properties of materials and how processing conditions can manipulate a material and its performance. Winey is now applying that mindset to advance the department's already far-reaching trajectory. "I am following Peter Davies, who chaired MSE for 14 years and whose list of accomplishments is considerable. He was an early advocate of dedicated facilities for nanoscience, eventually resulting in the construction of the Singh Center for Nanotechnology. He also identified, early on, that nanoscience would be appealing to undergraduates," she remarks. "Under his guidance, our department has become scientifically stellar, and I intend to continue that momentum."
Chief on her list of near-term initiatives for the department includes bringing additional faculty on board to enhance its research portfolio and academic offerings. "New faculty serve to strengthen our undergraduate curriculum and master's programs and to broaden what is available to doctoral students," she states. "I want to hire people who will bring unique skills that will augment the existing departmental and School-wide research initiatives."
This is especially exciting as MSE continues to strengthen its research scope in the area of health science. "Many of our faculty are already working in this arena to build understanding and improve health. For example, body tissues have complex mechanical properties and we are developing mathematical models to describe these intriguing properties, so as to control or monitor tissue health. We are also designing structured coatings that can hinder cell growth and thereby prevent infection," she notes.
Fuel for Innovation
Collaboration is often the fuel for innovation in MSE. The department has long been affiliated with the Laboratory for Research on the Structure of Matter and was the catalyst for building the Nano/Bio Interface Center. MSE faculty are also engaged with the Penn Center for Energy Innovation, the Penn Institute for Computational Science and the recently formed Center for Engineering MechanoBiology.
"I consider collaboration key to the advancement of our department and our science," says Winey, whose own research brings together partners in academia, national laboratories and industry for innovative discovery. Early in her career at Penn Engineering, she pioneered a technique to disperse carbon nanotubes, a building block of nanotechnology, in polymers. She also experimented with their orientation to learn how changes in position affect their electrical properties. "I was fortunate to work with nanotubes as they were just becoming available. Their potential when combined with polymers really fascinated me," she recalls.
Building on that fasciation, today Winey investigates two aspects of polymers. In polymer nanocomposites, her group focuses on polymer dynamics in the presence of various nanoparticles and other types of nanoscale confinement. "Polymer motion is significantly impacted by nanoparticles and we are building a fundamental understanding of this to enable easier processing and broader use of polymer nanocomposites," she explains.
In functional polymers, Winey's work has identified new nanoscale structures. "We are now testing the mechanical and transport properties of these new structures to evaluate their potential value as selfhealing polymers or as membranes in batteries or fuel cells."
The MSE Culture
Winey's new role as chair wasn't so much a career goal as it was a logical next step in developing the science she is passionate about at the university she loves. "I have a collaborative mentality when it comes to my science and this department," she says. "It matters to me that MSE thrives. I can't insulate myself and my research from its wellbeing, nor would I want to."
The desire to advance materials science and the department is shared by her colleagues. "I think that a multidisciplinary approach is really the materials science culture. We're not just interested in building our own labs and forwarding our personal research; we are building a thriving scientific community."
Science and academia are where Winey feels most at home. "I love the intellectual challenge of expanding what the world knows. Maybe I could have done that in a corporate environment, but I really love the rhythm and stimulation of the university atmosphere." She is just as passionate about teaching and dedicating the time it takes to help students have their individual "a-ha" moments. "That can happen in the classroom, but more often it happens during office hours when we just talk and ask questions of one another," she states. "And that collegiality pervades throughout the classroom, the labs and the entire department. It's what enables us to effectively extend and transfer knowledge and innovation."
Credit: Penn Engineering Magazine, "Karen Winey: At the Helm of Materials Science," by Amy Biemiller.