In Memoriam: Joseph Bordogna, 1933-2019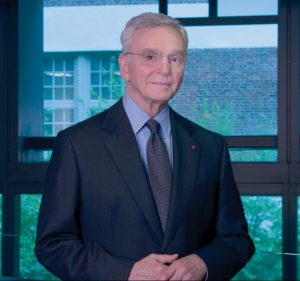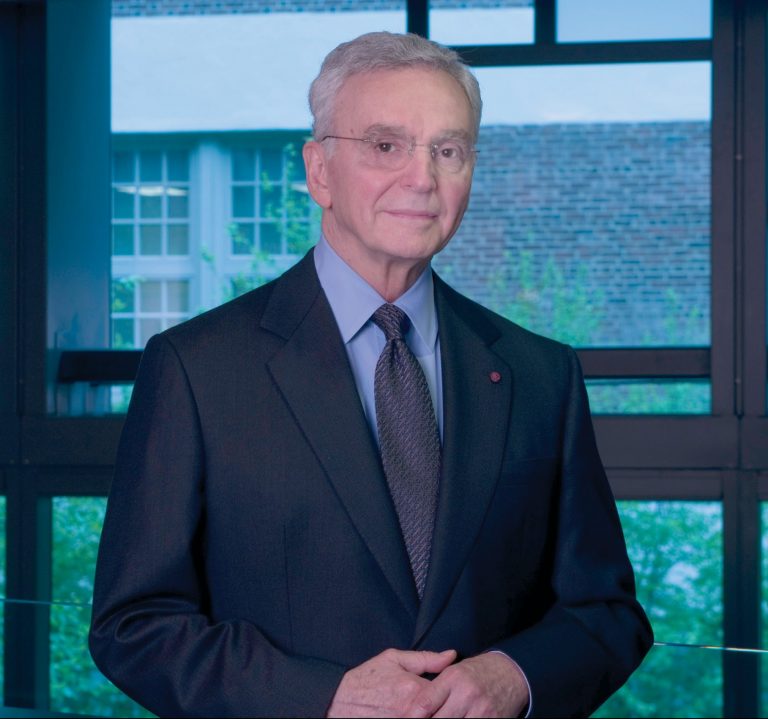 Joseph ("Joe") Bordogna, the Alfred Fitler Moore Professor Emeritus of Engineering in Electrical and Systems Engineering and former dean, died on November 25 at the age of 86.
Dr. Bordogna was born in Scranton, grew up in South Philadelphia and graduated as the valedictorian of John Bartram High School. He earned a bachelor's degree in electrical engineering at Penn on a Naval ROTC Scholarship in 1955. After serving in the US Navy, Dr. Bordogna won a Whitney Fellowship to MIT, but before enrolling, he worked at RCA in Camden, New Jersey, for a year to refine his academic interests. After earning his master's degree in electrical engineering and computer science from MIT in 1960, he returned to RCA, where he worked in communication systems, radar, transistor technology, holography and lasers.
In 1964, he earned a PhD in electrical engineering from Penn. He joined the faculty of the School of Engineering that year as an assistant professor. He went on to become director of The Moore School of Electrical Engineering, an associate dean and finally dean of the School of Engineering and Applied Science in 1981. During his tenure at Penn, he won five major teaching awards: The Lindback and S. Reid Warren Jr. Awards, and the off-campus education awards of Western Electric, Westinghouse and United Engineers and Constructors, Inc. He was also the first master of Stouffer College House.
His research interests included optoelectronics, manufacturing systems, environmental technologies, management of technological innovation, educational innovation and federal science and engineering policy. He made contributions to the engineering profession in a variety of areas, including early laser communications systems, electro-optic recording materials, holographic television playback systems and early space capsule recovery, receiving a commendation for history's first such recovery during Project Jupiter. He also helped create the National Academy of Engineering's well known high school course in technology, The Man-made World.
According to Vijay Kumar, Nemirovsky Family Dean, Dr. Bordogna was "the brains" behind Penn's dual-degree Management & Technology program and the man behind "Broader Impacts," a phrase he invented to emphasize the benefits of federal research to a congress that was indifferent to higher education. Dr. Bordogna was also a champion of K-12 education and a founder of PRIME (Philadelphia Regional Introduction for Minorities to Engineering). Throughout his career, he worked to include underrepresented populations in science, technology, engineering and mathematics education.
In 1991, Dr. Bordogna left Penn to become head of the National Science Foundation's Engineering Directorate and was appointed acting deputy director in 1996. He was the NSF's deputy director and chief operating officer 1999-2005, its longest serving deputy director in history at the time of his leaving. He returned to Penn in 2005, earned emeritus status in 2009 and retired in 2011. At that time, the Joseph Bordogna Professorship was established in his name.
Among his many honors, he received the National Science Foundation Distinguished Service Medal; was an Eminent Member of Eta Kappa Nu; was a member of the IEEE Honor Society; and he was awarded IEEE's 2008 James H. Mulligan, Jr. Education Medal, the Lifetime Achievement Award of the DC Council of Engineering and Architectural Societies, the US Government Leadership Award of the Semiconductor Industry Association and the Leadership in Technology Management Award from the International Conference on Management of Engineering and Technology.
He is survived by his wife Frances; son Ray (E'93) (Whitney Deas); granddaughter Avery; and numerous cousins.