Hana Oh (ChE PhD'09): A Doctorate in Chemical Engineering Finds Success as an Intellectual Property Attorney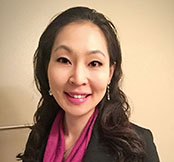 Hana Oh has taken a unique career path. She is an intellectual property (IP) attorney at the international law firm of O'Melveny & Myers LLP, which focuses on patent and trade secret litigation, and licensing issues for innovative companies such as Samsung, Micron, Endo, Alcon, and Novartis. Her clients develop leading-edge products in a wide range of industries, including semiconductors, life-saving pharmaceuticals, gene sequencing, and medical devices. Hana and her team strive to protect their clients' valuable intellectual property assets, which are key to their success in these competitive industries. In her role, Hana performs in-depth analyses of patent portfolios and trade secrets, immersing herself with ease in highly technical matters. Her CBE background also allows her to collaborate effectively with industry experts and scientists working on products for clients.
While Hana first became interested in IP generally as an undergraduate at MIT, it was at Penn where she developed her passion for tech, IP, and law. Hana credits much of her successes as an IP attorney to the rigorous training in engineering at Penn, both inside and outside the laboratory. As a PhD student in Professor Scott Diamond's lab, she honed her skills in tackling complex problems and developing creative and practical ways to resolve them. Presenting at various speaking engagements and working on publications, while at Penn, also helped refine her skills in communicating complex scientific concepts in a simple, concise manner. In addition to research, Hana broadened her IP knowledge by participating in various interdisciplinary channels — Penn's Center for Technology Transfer, Penn Biotech Group, and the Wharton Business Plan Competition.
During her time at Penn, Hana also formed valuable connections outside of engineering. She served on the executive board of GAPSA (Graduate and Professional Student Assembly), and was a founding board member and chair of PGWISE (Penn Graduate Women in Science and Engineering). These connections included attorneys and other IP professionals who encouraged and mentored her on the path to IP and law.
Hana's current legal practice also includes important pro bono matters, particularly in domestic violence and women and children's rights. For example, she recently obtained asylum for three young siblings from Guatemala, who fled to the U.S. to escape domestic and sexual abuse. Hana's written and oral advocacy resulted in asylum for all three children, who are attending high school in the U.S., without fear of being returned to their abusive past in Guatemala.