David Gabrieli Receives Josephine de Karman Scholarship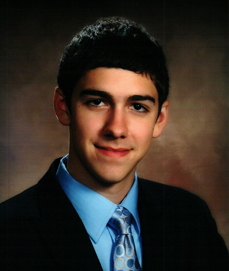 David Gabrieli (BE'14), has been awarded a Josephine de Karman Fellowship, a merit-based award for doctoral students or undergraduates entering their final year.
Gabrieli is pursuing a major in bioengineering with a minor in mathematics.  He currently holds undergraduate research positions in the Department of Biochemistry and Biophysics at the Perelman School of Medicine and in the Department of Bioengineering at Penn Engineering.  He participated in the 2012 Amgen Scholars Summer Research Program at Columbia University and is a 2013 John Thouron Research Prize recipient who will spend this summer studying at Pembroke College, Cambridge University, UK.
The Josephine de Karman Fellowship Trust was founded in 1954 by the late Dr. Theodore Von Karman, world renowned aeronautics expert and teacher and first director of the Guggenheim Aeronautical Laboratory at the California Institute of Technology.  The purpose of this Fellowship program is to recognize and assist students whose scholastic achievements reflect Professor Von Karman's high standards.
Gabrieli is among 8 North American students awarded Josephine de Karman Fellowships this year and is the second de Karman winner from Penn in two years.
Additional information about the Josephine de Karman Fellowship Trust is available here.