Danielle Bassett Receives MacArthur Foundation Fellowship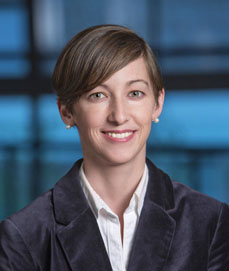 What is your most important social network?
According to Danielle S. Bassett, Skirkanich Assistant Professor of Innovation in the Department of Bioengineering, the answer is your human brain.
Bassett applies network science — a multi-disciplinary field of study which focuses on the interactions of individual elements within complex networks and how they affect the behavior of a connected system — to understand how different regions of the brain communicate as people learn new information and attempt cognitive challenges.
For her research — which seeks to identify the flexibility and agility of these processing, storage and transmission regions and how their relationships can affect learning styles, response to treatment of brain injuries, and neurological and psychiatric disorders and diagnostic markers for disease — Bassett has received a 2014 MacArthur Foundation Fellowship.
One of only 21 awardees, Bassett will receive a five-year, $625,000 grant to continue her research and affiliated creative activities.
Exploring the Beauty of Interaction
In addition to her research, Bassett is also the founder of the Penn Network Visualization Program, a six-week internship launched this summer that offers art students the opportunity to learn about network science from research experts and draw inspiration from complex neurobiological and social ideas for their creative work.
The participants' projects were recently displayed at a gallery event, and they will tour local middle and high schools to encourage students to explore the connections between art and science.
"Danielle Bassett's research reveals the nature of the connections that make us who we are, both as individuals and as a society," said Penn President Amy Gutmann. "She also maximizes our ability to understand the immensely complex human brain by integrating knowledge from fields as varied as neuroscience, mathematics, genetics, computer science, behavioral economics and the fine arts." Gutmann said Bassett's work demonstrates Penn's distinctive focus on integrating knowledge across disciplines for practical and theoretical purposes and that the University is very proud of her MacArthur recognition.
One of the nation's largest independent foundations, the John D. and Catherine T. MacArthur Foundation supports creative people and institutions committed to building a more beautiful, ethical and peaceful world. The MacArthur Fellowship honors those who show exceptional creativity in their current work and potential for more in the future. The fellowship provides recipients flexibility to pursue creative activities and research without specific obligations or reporting requirements.
Bassett's work was also recognized with a Sloan Fellowship earlier this year. The Alfred P. Sloan Foundation provides early-career scientists and scholars, nominated by their peers, with two-year, $50,000 awards to further their research.