Daeyeon Lee Receives 3M Nontenured Faculty Award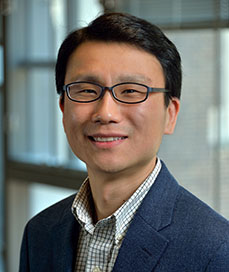 Daeyeon Lee, assistant professor in the Department of Chemical and Biomolecular Engineering, is the recipient of a 3M Nontenured Faculty Award for his proposal, "Bubble-Derived Light-Weight Materials with High Strength and Toughness." This award was created by the 3M company to support new faculty in their path to tenure.
Lee leads the Soft Nanomaterials Lab, which works to develop a deep understanding of the interactions between soft materials (e.g., polymers, colloids and biologicals, etc.) near or at interfaces. His group seeks to extend the obtained knowledge to enable the assembly of nano-/micro-scale materials into macroscopic structures that have designed properties and functionality. The major research efforts in the lab include understanding the behavior of Janus particles at fluid interfaces, understanding and improving the assembly and mechanical properties of nanoparticle films, the generation of hierarchical structures using emulsions and bubbles as templates, and development of catalytic systems for biomass conversion.