Christopher Fang-Yen Receives New Scholar Award in Aging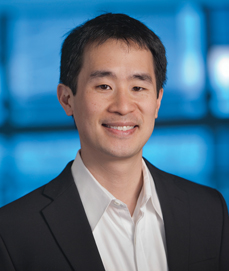 Christopher Fang-Yen, Wilf Family Term Assistant Professor in the Department of Bioengineering, is the recipient of the 2013 Ellison Medical Foundation New Scholar Award in Aging for his proposal, "High-throughput Imaging of Lifespan and Healthspan in C. Elegans." This award is given to exceptional new faculty whose work shows the potential for great impact in understanding lifespan development processes and age-related diseases and disabilities.
Fang-Yen's research uses C. elegans to address many questions of aging, behavior, and neurobiology. His proposal includes the devlopment of new technology for the measurement of C. elegans behavior and lifespan, along with using this technology to investigate mechanisms of behavioral decline and its variability during aging. This work will test the hypothesis that lifespan and healthspan are under partially independent genetic control. Fang-Yen also plans to openly disseminate the findings to the wider C. elegans research community in order to further advance aging research. To learn more about Fang-Yen and his research, visit his faculty research profile.
The Ellison Medical Foundation works to foster creativity in basic biomedical research, and has a recent focus on aging in humans and other organisms. The New Scholar Award in Aging provides funding to a total of 25 scholars of up to $100,000 per year, for four years. To see the award announcement, visit the Ellison Medical Foundation website.