Building a 1965 Shelby Cobra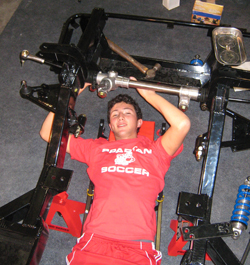 Mike Peisach is not your average university student. This Mechanical Engineering and Applied Mechanics freshman conceived of and carried out a plan to build a 1965 Shelby Cobra, a rare British sports car, from the ground up.
From the time he turned 16 and got his first car, he was tempted to tinker with it, and make various "improvements." His father, Penn Engineering alum Alberto Peisach, was of course apprehensive. But, this apprehension planted the seed that grew into Mike's inspiration to build the Cobra. "If you like cars so much," said his father, "why don't you build one?"
Soon after, while still in high school in Florida, Mike began his research on how to build a car and find the funds to purchase materials and parts. He ultimately found a sponsor, Wences Casares (the Founder and co-CEO of Bling Nation), and began scouring the inventories of automotive websites and area car shops. To get the car exactly right, he purchased an old Shelby Cobra mechanic's manual and studied the parts. He also had a mechanic stop by his shop once a week to follow his progress.
For Mike, the project was the result of his passion for cars and machinery, and the two-plus years were an adventure. As part of the sponsorship agreement, Mike auctioned the completed car to benefit the nonprofit organization Endeavor, which targets entrepreneurs across the world who have the high-impact potential to change industries and communities. Prior to the auction, Mike got to drive the car for a mere 2 days before parting with it.
The car fetched a whopping $111,000 at auction and now "resides" in California at the home of Tim Draper, one of the most successful venture capitalists of Silicon Valley.
When asked about the wisdom he's gained in addition to a mountain of mechanical knowledge, he replies, "If you have a dream, do not start toward the goal thinking of the dream and wondering how to accomplish it; instead think of the first step and how to accomplish that."