Bioengineering undergrads win regional award at iGEM competition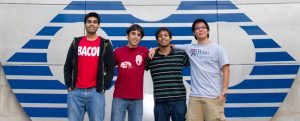 Four Bioengineering undergraduates were named the overall regional winners of the Americas East Jamboree that is part of the prestigious International Genetically Engineered Machine (iGEM) Competition, a synthetic biology research contest (http://igem.org/). The Penn team beat out 42 other teams from 40 universities — including Carnegie Mellon, MIT and Cornell — to win the regional competition on Oct. 14 in Pittsburgh.
Each year, iGEM attracts teams of undergraduates from more than 180 universities around the world to engineer novel biological systems. Their research projects are judged by leading scientists and engineers, first at five regional competitions (Americas East, Americas West, Asia, Europe and Latin America), and then at the iGEM World Championship Jamboree in November.
Penn team members, all BE majors, include sophomore Ashwin Amurthur, junior Peter Qiao, and seniors Avin Veerakumar and Michael Magaraci. BE Assistant Professor Casim Sarkar is the principal advisor for the team. Other advisors include Mark Goulian, Edmund J. and Louise W. Kahn Endowed Term Professor of Biology; and Jordan Miller, a postdoctoral fellow in Professor Christopher Chen's BE lab.
"At the beginning of the summer, Avin, Michael, Peter and Ashwin set out to engineer synthetic genetic circuits to enable novel, biomedically useful functionalities in bacteria, such as tumor targeting and cell killing," explained Dr. Sarkar "This is an ambitious synthetic biology project, but the students are highly self-motivated and spent countless hours in the lab over the past six months to successfully create these new functionalities. It was therefore very gratifying to see their hard work rewarded with the top prize at the Americas East Jamboree."
But since then they have not been resting on their laurels, he noted. The same day team members returned from the regional competition, they were back in the lab carrying out new experiments for the World Jamboree.
Engineering bacteria to target, kill cancer cells
The Penn iGEM team engineered a novel platform for targeted therapeutics that employs simultaneous spatial and cellular targeting. Specifically, it engineered E. coli bacteria that may enable highly targeted eradication of human epidermal growth factor receptor 2 (HER2)- overexpressing cancer cells, according to team member Veerakumar.
Upon binding of bacteria to HER2-overexpressing cells, tumor cell killing can be triggered with spatial and temporal precision using light. The team constructed a light-switchable transgene expression system in bacteria that activates secretion of a toxic protein that pokes holes in the tumor cells. The team is now combining the cellular targeting module with the light-activated cytotoxic protein delivery system in bacteria to both target and kill cancer cells.
The team was sponsored by the University and SEAS, as well as Corning, Integrated DNA Technologies, Genewiz, New England BioLabs, and the Jerome Fisher Program in Management and Technology.
On Nov. 2, the Penn iGEM team will face off against the top teams from other regional competitions, including Berkeley; Universidad de Los Andes at Bogotá, Colombia; University of Groningen; and Shanghai Jiao Tong University.
Students interested in joining next year's iGEM team should contact Dr. Sarkar.