An Applied Learning Experience in Africa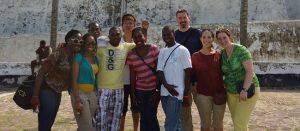 Studying abroad continues to hold wide appeal for many U.S. college students. It is an opportunity to become immersed for a short time in a different culture, to step out of the "American-ness" of one's life and learn to appreciate how others live and work.
But when engineering majors go to a developing country and engage in hands-on projects that can help local people directly, the lessons can be transformative. And that is what Kevin Bickard, a rising fourth-year bioengineering (BE) undergraduate, learned during his four weeks studying in Ghana, Africa.
"One of the most valuable lessons I learned was that nothing can beat understanding the basics," says Bickard who was in Ghana in May 2011. "I realized all of the computers and high-tech machinery often used in labs at Penn kept me too far removed from what is actually going on. With the lack of these types of equipment in the workshop in Ghana to rely on, we were forced to understand completely all aspects of a process — something I usually leave for the machine to do — and be creative when handling problems. It resulted in a much better learning experience."
During his weeks in Ghana, Bickard and his fellow students designed and created ceramic water filters in a workshop on the campus of the Kwame Nkrumah University of Science and Technology (KNUST) in Kumasi, Ghana's second-largest city. "My team made various designs of the filters, then tested each to see which one filtered water the most efficiently," Bickard recalls. "The difference in even the look of the water before and after filtering was very impressive." The students then gave a completed water filter to a classroom in a neighboring community.
"I always wanted to study abroad but had trouble finding time during the fall and spring semesters to leave. A summer program seemed perfect, particularly to Ghana, as I was interested in experiencing a culture that was very different from my own," Bickard says. "The idea of using engineering principles to improve developing countries was also very appealing to me."
The IDSI program
Penn has been sending students to Ghana for the past three summers as part of the International Development Summer Institute's Africa Program (IDSI-AP), which provides students with the opportunity to have an applied learning and cultural experience abroad. The program consists of five weeks of pre-program preparation at Penn, followed by a four-week training program on KNUST's campus in Ghana. KNUST, a full university, houses the primary engineering school in Ghana, and is one of the more advanced technical schools in all of West Africa. The school's founder and namesake, Kwame Nkrumah, was the first president of Ghana, and was a 1941 Penn graduate.
IDSI-AP is a partnership program with KNUST. On the Penn side, the partnership is with the School of Arts and Sciences (notably the African studies program) and SEAS, although it is open to all Penn undergraduates, explains Megan Doherty, associate director of International and Service Learning Programs for SEAS. "Including students from both universities became an integral part of the program very early on in its implementation." Doherty further explains, "In 2000, SEAS began a relationship with KNUST by sending a team of nearly 20 SEAS students and faculty on a summer service project based on IT-related work. IDSI-AP is one of the programs resulting from over 10 years of building a relationship with KNUST. We were awarded a planning grant from the Penn Hewlett Fund for Global Initiatives in 2009, which enabled us to send our first Penn group in the summer of 2010."
Four groups
This past May, seven SEAS students took the journey, along with six students from other Penn departments, this year's student leader, Benita Chumo (BE '12, BE MSE '13), Doherty, and two faculty members from BE: Beth Winkelstein, professor, and Jason Burdick, associate professor. Seven KNUST students joined the group.
Winkelstein and Burdick were there mostly for faculty support, but they both also gave lectures on their research to students and KNUST faculty members. Winkelstein spoke about her work in biomechanics, and Burdick on stem cells and tissue regeneration. This year, KNUST is graduating its first class in biomedical engineering, so the students there were particularly interested in learning about the latest research.
As part of IDSI-AP, Penn and KNUST students formed four groups that studied the following topics:
appropriate technology, which looks at local problems (e.g., extracting oil, making soap), and tries to devise technologies to deal with those issues;
education, where the students taught English, computer and math courses to students in surrounding villages;
healthcare, which observed local health services; and
microfinance.
The latter group met with Kwabena Danso of The Yonso Project (www.yonsoproject.org), a nonprofit organization devoted to increasing educational and economic achievement, particularly in Ghana. Danso has a local company that makes bamboo bicycles and then ships them for final finishing outside of the country. "There was some discussion about how his workers could finish the bikes themselves, and what would be the implications of that," Winkelstein recounts.
BE student Bickard recalls that his group in 2011 worked not only on water filters, but also on alternate energy sources, such as biobriquettes, which involves making charcoal-like material out of waste from trees and plants. This was combined with the group working with Danso's bamboo bicycles. "We showed him how to use the waste from his bamboo processing to make the biobriquettes," Bickard says.
On the trip this past May, Professor Burdick accompanied the healthcare group, which examined a disability program on KNUST's campus, meat inspection practices at a local facility, a Millennium Development Village's telemedicine project, and regional HIV and tuberculosis clinics.
Cultural immersion
But the trip was not all about work. "We traveled north to a national park and south to see the coast. Ghana is a beautiful country," says Burdick. "The students seemed to enjoy the program and their downtime while there, and it was inspiring to see them interacting with KNUST students. They cooked together, bought fabric to make clothes together, and generally interacted with one another a lot. I think all of the Penn students had an amazing time and learned a lot."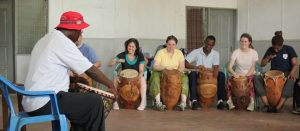 Winkelstein agrees, adding that she relearned the lesson to simply appreciate and understand the role of technology in our lives. "When you go to a place that has little electricity, and yet everyone has cell phones, they eat well, have a university, and live in a fully functioning and improving society, you understand you may not need all of the things we think one cannot live without here in the States."
One story in particular inspired her. "One of our Penn students is originally from West Africa and had not seen his parents in nine years. He was on the trip with us, and his parents traveled for three days from Liberia to see him. It was quite moving to see the family reunion," Winkelstein recounts. "It was also inspiring to see the Penn students, many of whom had never been to Africa although that is their ancestral home, on the continent and meeting the local people."
Doherty says the Penn students learn many lessons on the trip, particularly the value of patience. Ghanaians do not subscribe to the American sense of time. "The students got into the rhythm of a different culture, and accepted that rhythm while learning as much as they could," she says. "There was a lot of waiting, for transportation, for example, and other things. Our Penn students handled it well, with little complaining. They were very adaptable."
The students also adapted well to having limited resources for their projects done while in Ghana, she says. "They knew they couldn't just run to the store to get what they needed for their projects. They had to learn to work within the boundaries available, rather than trying to impose their own processes or desires. They had to learn how to identify the experts who could help them, and then how to approach those experts for help — all good lessons to learn in a hands-on process for engineering students, to think outside of the box."
Penn students get 2 CUs for the program. They must take five or six class sessions before the journey, a sort of crash course in the culture, history, language and politics of Ghana, Africa and international development in general, says Doherty. Then on the trip, the students must be active participants and keep journals, which they hand in for grading.
Winkelstein praised the local Ghanaians, calling them warm and welcoming. "They didn't just ask if I was drinking the local water, but they wanted to know if I had enough bottled water for my needs. They didn't just say, 'Good morning,' they asked how I slept. They really cared about our comfort."
On her last day in Ghana, Winkelstein says five people handed her notes and asked her to read them later, perhaps on the plane ride home. "I have a lot of 'stuff' in my life, but I will hold onto those letters for the rest of my life," says Winkelstein.