Amish Patel Receives 2017 Sloan Fellowship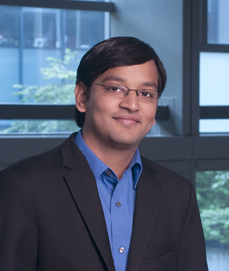 Amish Patel, Reliance Industries Term Assistant Professor in the Department of Chemical and Biomolecular Engineering (CBE), is the recipient of a 2017 Sloan Foundation Fellowship.
"Sloan Research Fellowships are highly competitive and only given to the best and brightest young researchers," said John Vohs, Carl V. S. Patterson Professor and Chair in the
Chemical and Biomolecular Engineering. "Amish certainly falls into this category and we are proud to have him as a member of the CBE Faculty.
Since 1955, the Alfred P. Sloan Foundation has granted yearly fellowships to early-career scientists and scholars whose achievements and potential identify them as the next generation of scientific leaders.
"Using the tools of statistical mechanics and molecular simulation, my group's research focuses on identifying the distinguishing characteristics of the interfacial molecules that directly influence their emergent macroscopic properties," Patel said. "By bridging the molecular and macroscopic worlds, we aspire to guide the design of diverse materials and molecules, ranging from synthetic ice nucleation inhibitors and water-repellent superhydrophobic surfaces, to nanoparticle membranes and chromatographic ligands for protein separations."
To qualify, candidates must be nominated by their peers and selected by an independent panel of senior scholars. Each Fellow receives a $60,000 award to further his or her research.
To learn more about Amish Patel, visit his faculty research profile.