Please Welcome Katie Thompson to CBE!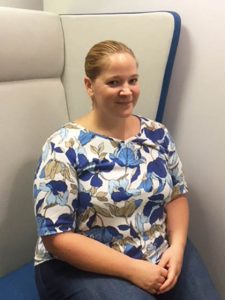 She is the new PICS (Penn Institute for Computational Science) Coordinator supporting CBE, MEAM, and MSE faculty and students. Her office is located in the new PICS Center at 3401 Walnut Street.
Katie grew up in Stroudsburg, Pennsylvania and joins the SEAS team from Penn Law where she was an Administrative Coordinator for Legal Practice, a first year law course which teaches basic fundamentals of legal research, drafting memos, writing case briefs, and oral arguments.
Katie really enjoys working with students and says among other things she is looking forward to improving the PICS website and social media presence.
In her spare time she loves to garden, although it is exhausting waging a constant war with the squirrels. She should feel right at home with our vast Penn squirrel community.